Due to technical issues with the state department technology system, we are experiencing a delay in the delivery of Grade Cards. Please check your child's livegrades. We apologize for the delay. Thank you.

FAFSA NIGHT
Plan B Alternative Bus Coverage - Fayette County Schools are instituting a new procedure to give students the chance to attend school when bus routes are cancelled due to limited bus personnel: Plan B Alternative Bus Coverage. When a bus route is cancelled, students will arrive to Meadow Bridge High School at approximately 8:30 am, and they will be dismissed at approximately 12:30 pm. Students will be picked up about 1 hour later than normal. Students will be dropped off about 2 hours earlier. No Plan B Alternative may be initiated unless prior days' notice is given to parents/guardians due to arrangements that parents/guardians have to make.

Good Evening. This is a reminder that the deadline to apply for the New Haven Christmas Project is Monday, December 5th at 11:59pm. This link will shut down after this time and no applications can be submitted. The link to apply has been sent to your childs school email and the link can also be found on the New Haven Christmas Project facebook page. Everyone who has submitted an application via the link will be contacted beginning Tuesday, December 6th with a time to pick up your gifts. Distribution of gifts will be Friday evening, Dec 9th and Saturday December 10th at the old Nuttall Middle School Gym.

Reminder: School pictures are tomorrow, November 29th. Money is due when the pictures are taken.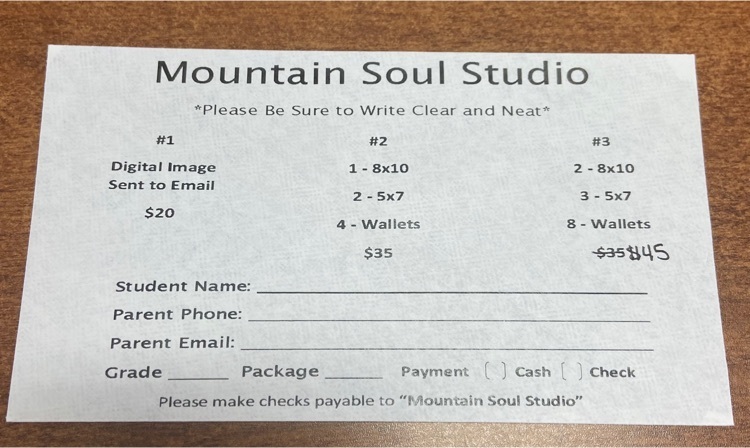 Weather Update: MB schools are operating on a remote schedule today, 11/17/22, due to road conditions. Teachers will be sending Teams invitations to meet with students. Students need laptops charged and on by 10:20 a.m. Thank you.

We hope to see you on November 1st.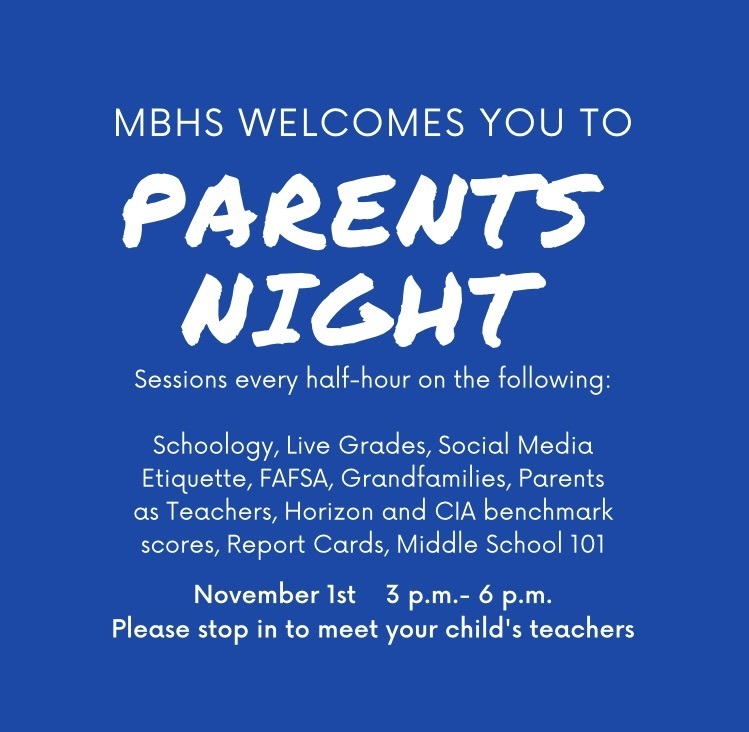 A reminder from Open House. All cell phones will be collected during first homeroom and secured in a locked cabinet at the beginning of the day. They will be returned during second homeroom. As of this time, no student drivers. We are very excited to see all of our students tomorrow! #wildcatnation💙🤍💙

MBHS Open House August 17, 2022 6:00 p.m. MBES Cafeteria

Good evening. The MBHS Open House will be held tomorrow, 8/17/2022, in the MBES cafeteria. Students will receive their schedules and construction updates will be announced. We look forward to seeing everyone there!

Dual Credit Opportunities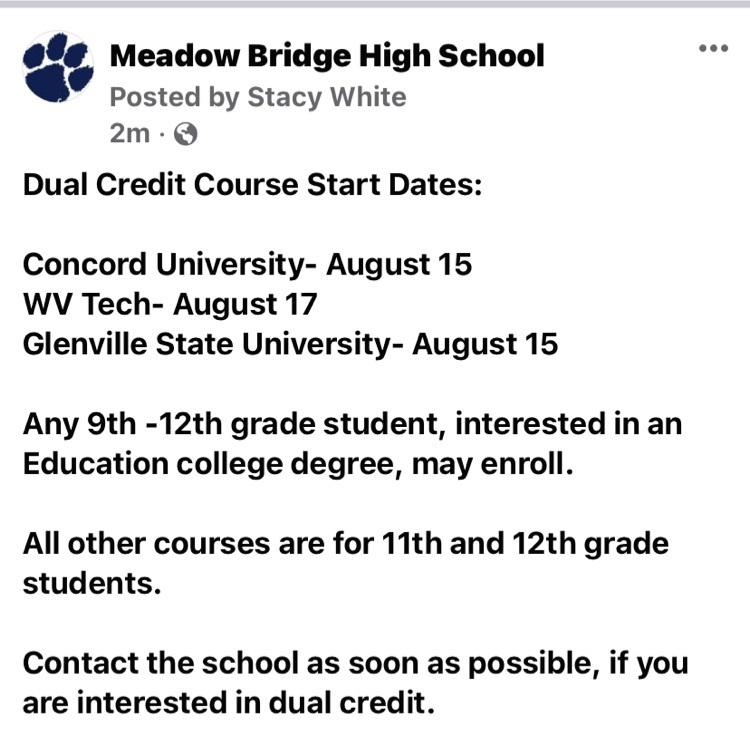 Please email any school events (graduation, prom, etc.) and sports pictures you have of your child from school year 2020-2021 to
tonya.mills@k12.wv.us
by April 22, 2022. These will be included in the yearbook. Thank you!

Good evening. This is a reminder that this Wednesday, April 13th, is the SAT School Day for Juniors. This test is very important. So important that only Juniors attend school on Wednesday. All other grades will be working remotely from home this Wednesday, April 13th. Also, Thursday, April 14th, students will be released two hours early for Spring Break. Spring break is Friday and Monday and students return to school on Tuesday, April 19th. Thank you and have blessed break.

All Little Caesar's order forms and money are due to Ms. Short this Monday, April 11th. Thank you!


Babcock State Park is now accepting applications for the following seasonal jobs: Campground Attendants, Gift Shop Attendant, Housekeepers, Maintenance workers, Security, Boat Dock attendants, and Maintenance workers. We have the applications in the office if you are interested. You must be at least 16 with dependable transportation.

Juniors and Seniors going on the Field Trip to Glenville State college must turn their permission slips in by tomorrow to the office. If you did not get a permission slip, please pick one up in the office today and return it in the morning.

Little Caesars Fundraiser has been extended to April 11th. All order forms with money must be turned in to the office first thing, Monday, April 11th.

Levi, Ty, and Chandler's Senior Project is a Cornhole Tournament on April 8th during A/A and 8th periods. You donate a pack of socks to play or watch. Socks will be donated to the Children's Home in Rupert. Sign-ups are in the office for the cornhole tournament

Applications are in the office for current 7th, 8th, and 9th graders who are interested in a nursing career to attend the Southern WV Junior Nurse Academy at the WVU School of Nursing in Beckley from June 14th – 16th.