Wow! What a day! The grown-ups are exhausted, but the kids had a blast! Thank you to the staff and parents who put in the work to make this happen! Special shout out to Mrs. Gilkey for organizing!
8th Grade Promotion Ceremony will take place Wednesday, May 18th at 6:00 pm in the FPK8 Cafeteria. Reception will follow. 8th Grade awards will be given out during the ceremony. Students need to arrive at 5:30 pm. Dress clothes are encouraged.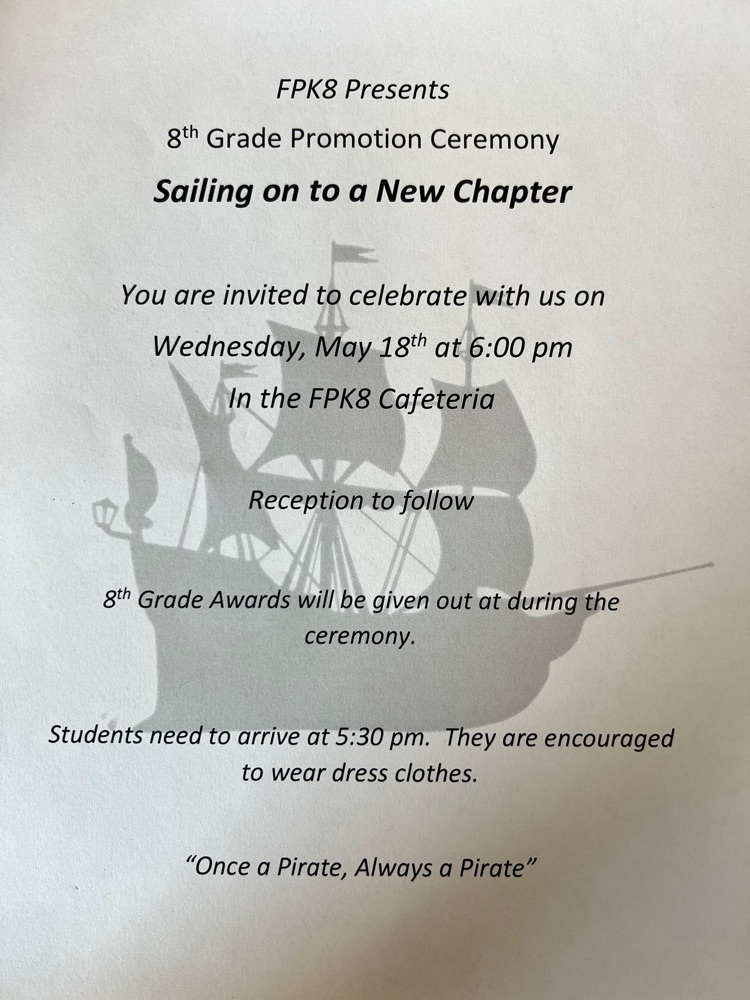 This is a reminder regarding Awards Day on Friday, May 13. Parents are welcome to attend! K-2 8:45-9:45 3-4 10:00-11:15 5-7 1:30-3:00 8th Grade Awards will be given during the 8th Grade Promotion Ceremony on Wednesday, May 18. We look forward to celebrating our students!
Attention 8th Grade Parents: Invitations for the 8th grade promotion ceremony will be going home tomorrow. We are putting together a slideshow for this event. We are requesting a kindergarten and 8th grade photo of each student. Please email photos to
FPK8pirates@gmail.com
. Please make your child's name the subject of the email. Photos are due by Sunday, May 15th.
If you are a current 5th grade student and you plan on participating in summer conditioning for any Fayetteville PK8 sport, you MUST have a completed physical form prior to any participation. Currently through May 20th, from 8am - 4pm, the FPK8 School-Based Health Center will be providing students with FREE sports physicals. If you have any questions, you can call the clinic at 304-900-5262.
Attention Parents of Fayetteville PreK-8! I am including a Survey Link to this message. Please complete the survey to help us improve our home to school connections. If you have any questions, please email me at
bmaynor@k12.wv.us
.
https://forms.office.com/r/q3XYvKSvCX
Thank you, Mrs. Maynor
Fayette County Baseball Tournament will take place on Saturday, May 7, starting at 10am. 1. Oak Hill vs Valley PK8 at 10am 2. Fayetteville PK8 vs Midland Trail at 12pm 3. Winner 1 vs Winner 2 at 2pm Come out and support the Pirates!
Attention current 5th, 6th, 7th grade students! If you plan of participating in fall 2022 sports; football, soccer, volleyball, or cheerleading, please use the following link to sign up before the last day of school! This link will also be posted on Schoology!
https://forms.office.com/r/kZZcYZ5wZC
Also, all students participating in a sport throughout the next school year must have a sports physical completed prior to being allowed to participate. Starting Monday, May 2nd, through Friday, May 20th, the Fayetteville PK8 School-Based Health Center will be offering FREE sports physicals from 8am to 4pm! Any student wishing to get a physical at the clinic will need to have a Consent to Treat form filled out by a parent prior to getting a physical if they don't already have one on file. If you have any questions, feel free to contact the clinic at 304-900-5262 if you have any questions.
This is a reminder that there is a two hour early out scheduled on Thursday, April 14 due to Faculty Senate meetings. Dismissal will begin at 1:15 for buses and 1:30 for parent pick-up. Also, there is no school on Friday, April 15 and Monday, April 18. Thank you!
Tomorrow is the last day of the cereal box challenge with NRI. We have until the end of the day tomorrow (Tuesday) to bring in new, unopened boxes of cereal. Help us win this challenge and stock our local food pantry!
Career Fair May 11 from 8:00-12:00. If you are interested in participating, please contact Mrs. Heatherly for more information.
FPK8 students and parents: New River Intermediate has challenged FPK8 to a cereal box challenge. This event will start on Monday April 4th, 2022 through Tuesday April 12th, 2022. Please bring your new, unopened boxes of cereal starting Monday. After the challenge, cereal will be donated to the Fayette County Food Bank. The class collecting the most boxes will receive a pizza party!
Coda Mountain Academy presents a new, free program supporting grandparents & relatives raising grandchildren and family members. The program will run 6 weeks on Thursdays from 10 am - noon at Fayetteville Christ Fellowship. Each week there will be a different guest speaker offering resources connected to nurturing and raising children today. Generational Love, Understanding & Encouragement (G.L.U.E.)
https://form.jotform.com/220826448608158
According to the FBI's National Crime Information Center (NCIC), there were more than 365,000 NCIC entries for missing children in 2020. Experts agree that photos and other identification supplied in the first 24 hours are crucial in safe recovery. That's why FPK8 has partnered with American Income Life Insurance Company (AIL) to make Child Safe Kits available to your family at NO COST. These kits, endorsed and supported by the International Union of Police Associations, allow you to record and keep fingerprints, vital information and a photo of each child (and there is an APP to keep your child's fingerprints with you at all time). Each family is also eligible for a NO COST Health Discount Card. Please watch for the AIL Plus/Child Safe Flyer to come home with your student and return by Tuesday March 22nd. The school will receive a $1 donation for every family that returns a card.
Thank you to all of our 8th grade families for coming out to our "PEP Plan Party!" What a great night discussing your child's future. 💚🤍🖤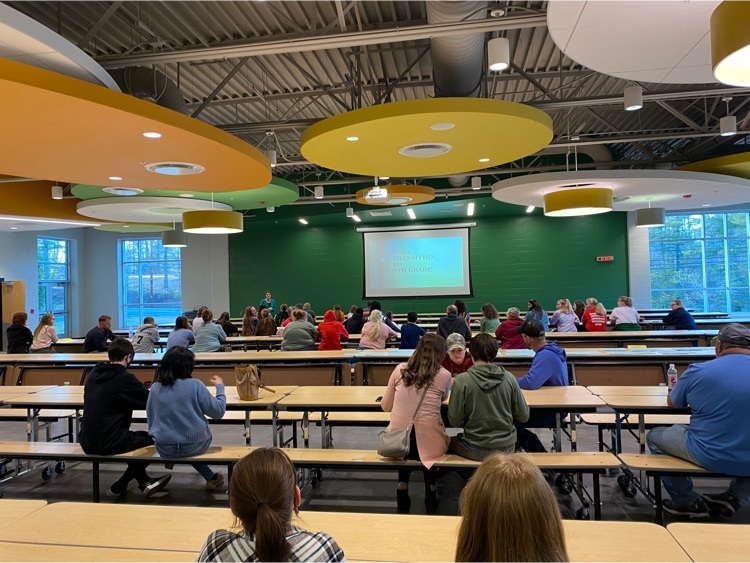 8th grade parents and guardians: your student is bringing home important paperwork regarding the transition to high school. You will also have a postcard in the mail inviting you to two upcoming 8th grade events for both you and your student. Please be on the lookout for both items!!!
Congratulations to the FPK8 Science Bowl team! Second place in the state! And…on a remote learning day!!!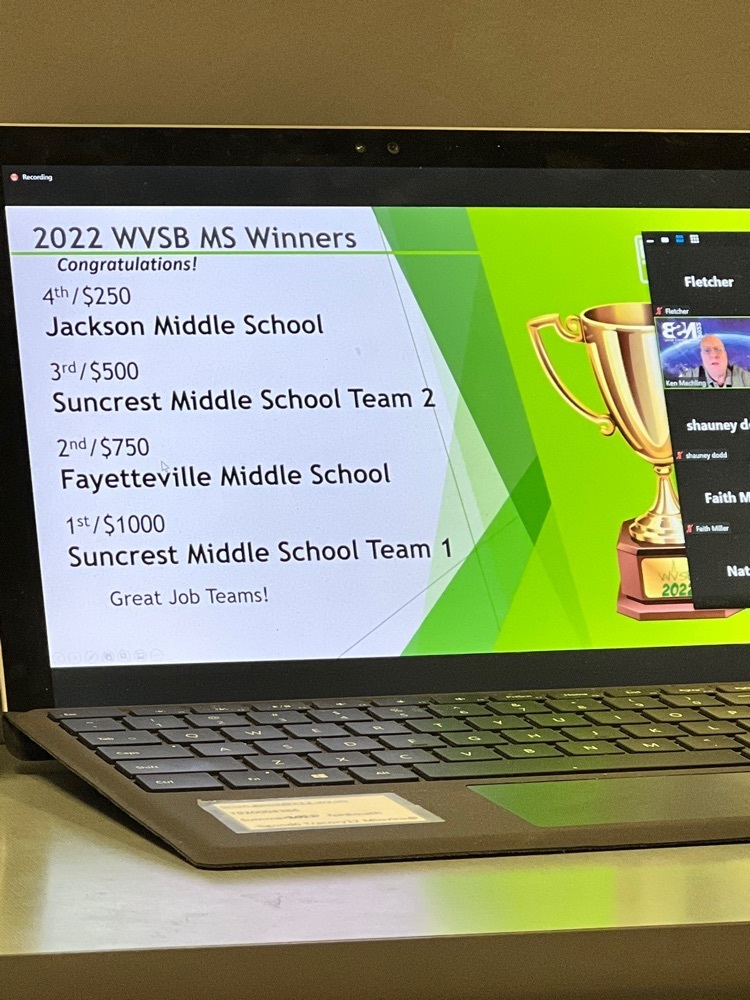 Correction: Bus 1207 will not make the AM or PM runs tomorrow, January 28th.
Bus 1204 will not make the AM or PM runs tomorrow, January 28th. Any student who is unable to provide their own transportation will not be marked absent.