Please use this form to show interest in reserving a spot for our school's annual Costume Parade and Trunk or Treat on Tuesday, October 31st. This event will start at 1:00 p.m. at the school's football field. There will be approximately 300 students attending. Someone will be contacting you the week before to confirm and give additional information on where to set up. Feel free to decorate a pop-up tent or your "trunk." If you are passing out candy, it must be store-bought/pre-packaged for individual consumption.
https://forms.gle/H65hFdqRHJUFerZi6
Please contact Kim Pauley304-890-1204 for more information.
CODA will be cancelled today due to homecoming activities. Students will use their normal dismissal procedures.
Reminder!!! Please turn in your watchDOG pizza night invite forms tomorrow so that we may have an accurate count to order pizza! WatchDOG dad kickoff event is Tuesday, September 26 from 630-730 pm ! All fathers and father figures are welcome with their children! (Just let us know you're going to be there)
CODA pickup will take place on the gravel parking lot by the football field today due to volleyball traffic.
FPK8 will join all Fayette County Schools I'm wearing red, white, and blue Thursday, September 14th. We do this to let the Midland Trail community know that we stand with them in this time of grief. One Fayette County! Hail Trail! 💙❤️🤍
FPK8 Fathers & Father Figures- We will have our Watch D.O.G.S. Dad kickoff event on Tuesday, September 19th from 6:00-7:00pm. Be on the lookout for more information. If you are already a verified Watch D.O.G. Dad and are ready to sign up for a day, email Mrs. Banks at
tabanks@k12.wv.us
. If you need a shirt, you can order one at shop.dadsofgreatstudents.com. We look forward to seeing you soon!
Please come out to suport the middle school soccer team for their first game of the season at 5:30pm against Webster County. Holy O's food truck will be on site with tasty treats on sale for attendees. If you would like to purchase a ticket online, please use the following link or scan the QR code.
https://gofan.co/event/1109616?schoolId=WV86871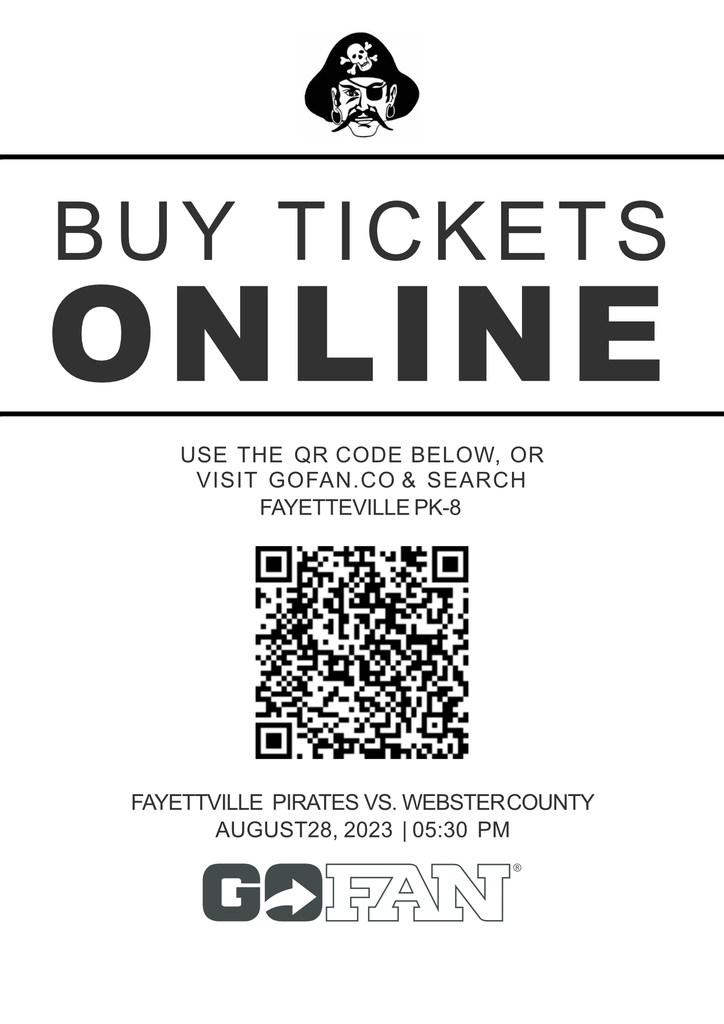 FPK8 Families, This is a reminder that picture day is tomorrow!
FPK8 Will run a plan B bus run for bus 1700 tomorrow, August 23rd for the afternoon run only. Students who ride bus 1700 will be picked up at the school by bus 1207 at 1:30 pm. Please expect bus 1700 students home shortly after their departure at 1:30 pm. This only affects students at FPK8. The morning bus will run as usual. Please send a note to school with your child if you wish to make other afternoon arrangements.
Good Evening FPK8 Families! Please make sure to have your car tag if you are doing pick-up. We will continue checking ID's tomorrow if you do not have a car tag. Starting Monday, you will be required to park and walk inside if you do not have your car tag. Student safety is our first priority. Thank you for your cooperation!
Mark your calendars! Our first PTO Meeting will be held on Monday, August 21st at 6:30pm in the FPK8 Cafeteria. We hope to see you there!

Fayette County will be offering accidental damage, loss and theft coverage for student computers this year. The forms will be sent home at the beginning of the year.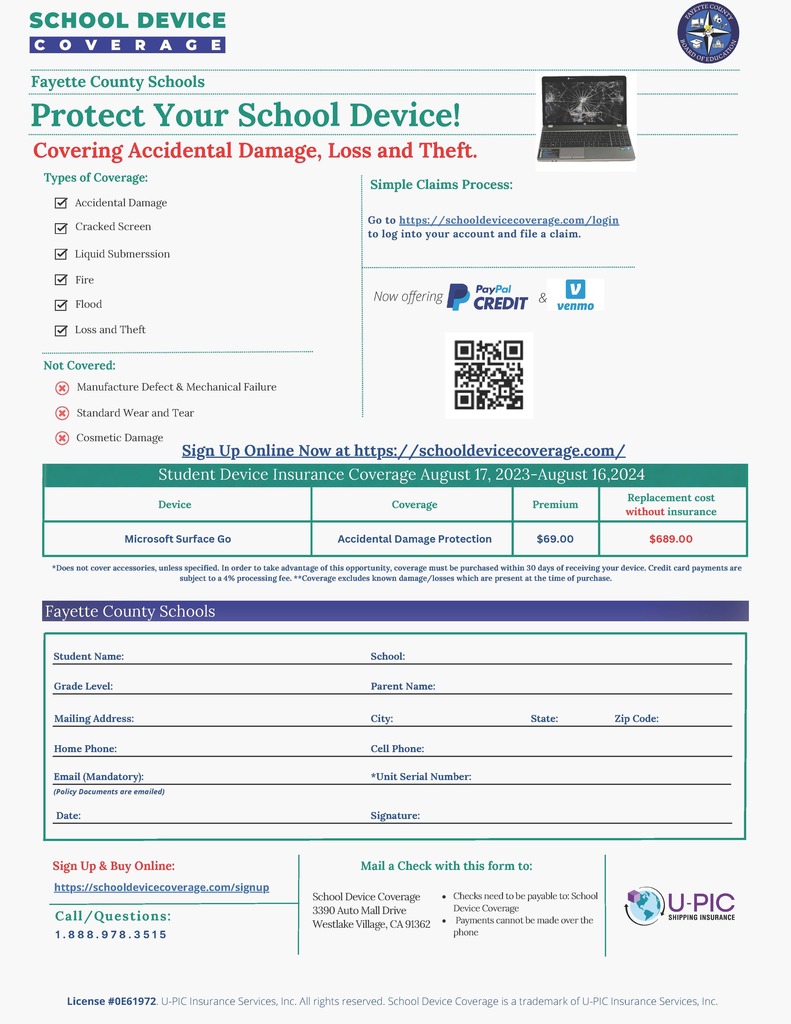 Postcards will be coming in the mail very soon! Keep watch!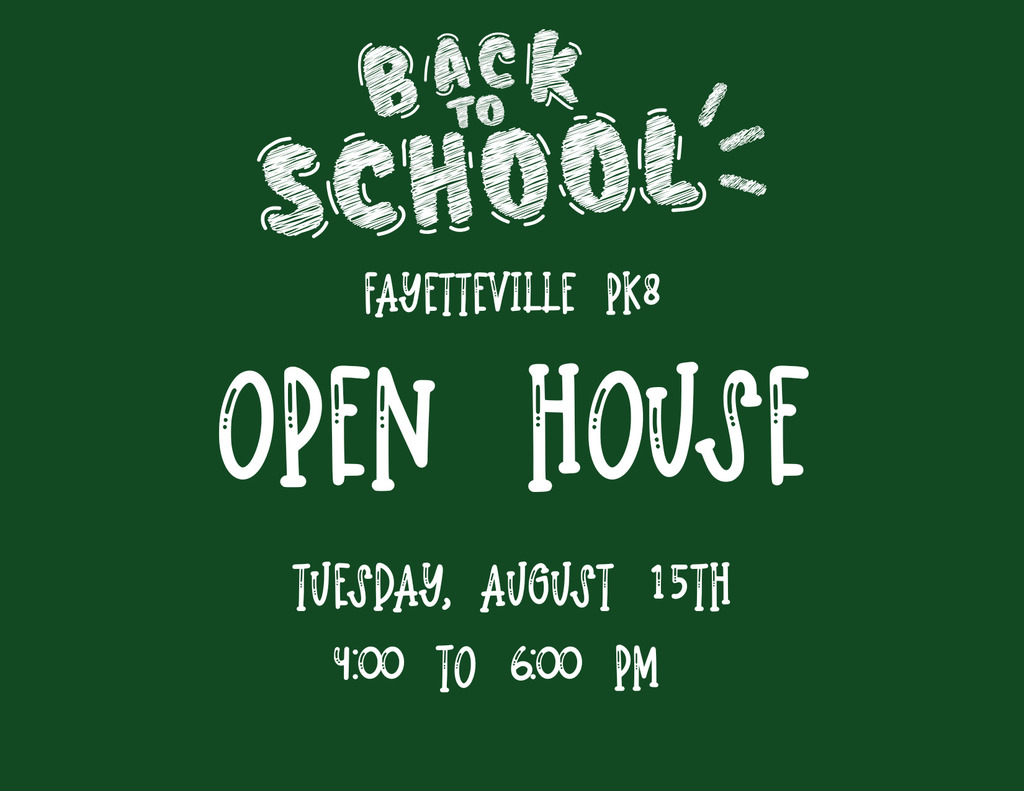 Due to predicted weather, all FPK8 student activities are cancelled today (August 7, 2023). No practices or activities are permitted after 12:00 today!
The FPK8 soccer team will start practice on August 7th, with open tryouts for any students interested in grades 6-8. This year our team will play 14 games and we hope to field a varsity and a jv team. Students must have a completed physical form to participate. Please contact Coach Tracey at 304-237-1144 for any further questions.
Reminder: Awards Assembly Monday 5/22 K-2: 9:30-10:30 3-4: 1:00-2:00 5-7: 2:00 - 3:00 **8th grade awards will be given during the promotion ceremony Tuesday at 6pm
Anyone that signed up to volunteer tomorrow for field day come to the football field at 8. Cooks are making pepperoni rolls and lunch is $4 to eat with your child during their lunch times which varies tomorrow to work around field day.
FPK8 PTO is in need of cases of water for field day on Friday. You may drop off at the school Wednesday or Thursday, or at the football field Friday morning.
Students it is time to sign up for 2023 Fall Sports! Please follow the link below and sign up if you are interested in playing Football, Soccer, Volleyball or Cheerleading. If you have any questions please contact Mr. Surface at the school. 3045740560 or
james.surface@k12.wv.us
https://forms.office.com/r/kZZcYZ5wZC